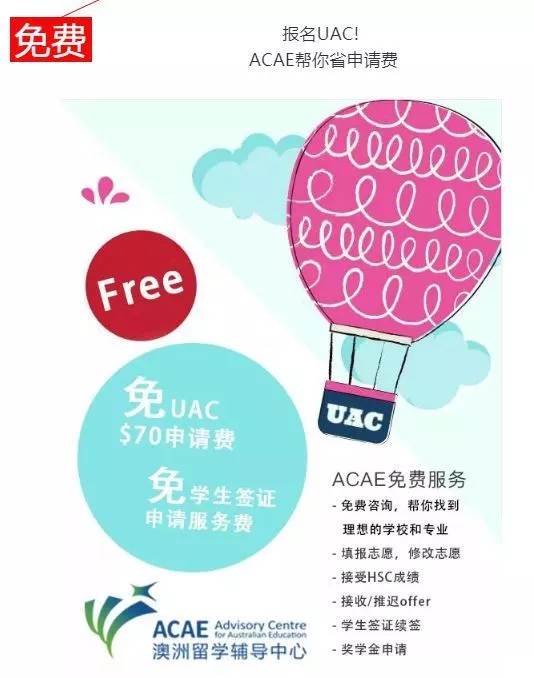 Are you a year 12 international student who wishes to study at an Australian university? Save that $70 UAC admission fee now by applying through ACAE by 30/09/2019!
HOW: All you need to do is to note down your UAC username and password after ACAE lodge in your application.
WHEN: The application opened on 3/04/2019. Apply before 30/09/2019 to save that $70 admission fee!
Below, we have some common questions answered.
CAN I APPLY FOR ANY UNI?
You would be only eligible to apply for the universities listed on UAC. If you have any enquiries about the university or the degree, don't hesitate to contact our consultant at ACAE!
HOW MANY PREFERENCES SHOULD I PICK?
You can pick up to 6 preferences. You are not required to choose all 6, just simply put down your most preferred courses if you are unsure!
CAN I CHANGE MY PREFERENCES?
You can contact ACAE to change your preferences as much as you want before the deadline for each rounds. Please note however, courses with Additional Selection Criteria may be subject to earlier closing dates.
HOW DOES UAC RECEIVE MY RESULT?
UAC will require your permission to in order to obtain your result. Please contact ACAE before the closing date to ensure UAC has granted your permission.
WHO MAKES THE DECISION ON MY OFFER?
Only the universities of your preference has the right to decide on your offer.
HOW ARE OFFERS MADE?
The universities of your preference will make the final decision based on the cut-off marks required for each courses. Additional assessments, resume screening and interviews may be required for specific courses. Offers will be made differently to international students, for more information, please reach out to ACAE.
HOW DO I RECEIVE MY OFFER?
Conditional offer will be granted 48 hours after UAC International receive your application. However, your placement at the university will not be guaranteed unless you have met the cut-off for your chosen degree and receive your unconditional offer.
You will receive your offer based on the order of your preferences. Your other preferences will be considered if your first preference failed to reach the cut-off.
Any university will ONLY give out at most one offer. It is possible to receive multiple offer if you applied to multiples universities.
WHEN SHOULD I ACCEPT MY OFFER?
You would not receive any other offers after accepting an offer at the first round. If you rescind your offer on the first round and do not receive further offers later on, you will not be eligible to study at any university for 2020. Please contact ACAE for further information.
Contact ACAE today to get your early bird $70 off for your UAC admission fee! Our experienced and professional consultant will ensure we provide the best solution to your needs!
Phone: +61 (0) 2 9281 8133
Email: acae@australiaeducation.com.au
Facebook: Acae Sydney
Weibo: @澳洲留学辅导中心ACAE
WeChat:澳洲留学辅导中心 / ID:ACAE_Sydney
Website: www.australiaeducation.com.au
Address: Suite 303-305 451 Pitt Street, Sydney NSW 2000